BedRug is the ultimate in truck bed protection. Finally an ALL-PLASTIC liner that maximizes the use of your pickup! BedRug beats hard liners and spray-on liners for hardworking performance.
Looks & Feels Like Carpet
Made of 100% polypropylene, the BedRug bed liner protects your truck, and provides an ultra tough work surface. BedRug is water and stain resistant. Holds up to bleach, oil and even battery acid.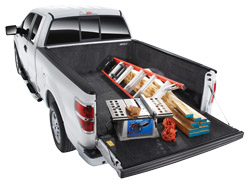 Designed For Exterior Use
BedRug features a 3/4″ closed cell foam floor and will not absorb water. Water runs off the fiber surface, and/or through the non-corrosive zinc alloy zipper and out the truck bed drain holes.
Durable, Yet Comfortable
Designed to act as a shock absorber, BedRug is soft to the touch, easy on the knees, and protects the bed from any impact damage. The carpet-like texture also prevents cargo from sliding or shifting during transport.
Built-In Hinge
The tailgate section is connected to the BedRug constructed of the same material. The hinge prevents opening between the truck bed and tailgate.
Great Looks With A Custom Fit
BedRug is custom formed to fit the contour and shape of the bed for a snug, tight fit, with a smooth, flat surface. Maintains the original shape and features of the truck bed, and full access to any factory tie-downs.
Pricing & Availability
For pricing and availability, please contact us via email or by telephone at 770-717-0734 (toll free 866-898-5231).  We will beat any competitor's price – Guaranteed!